I love a party with a theme – and patriotic colors are essential for Memorial Day and July 4th celebrations. When planning your next summer cookout, your guests will love the addition of some of these red, white and blue Memorial Day party food ideas.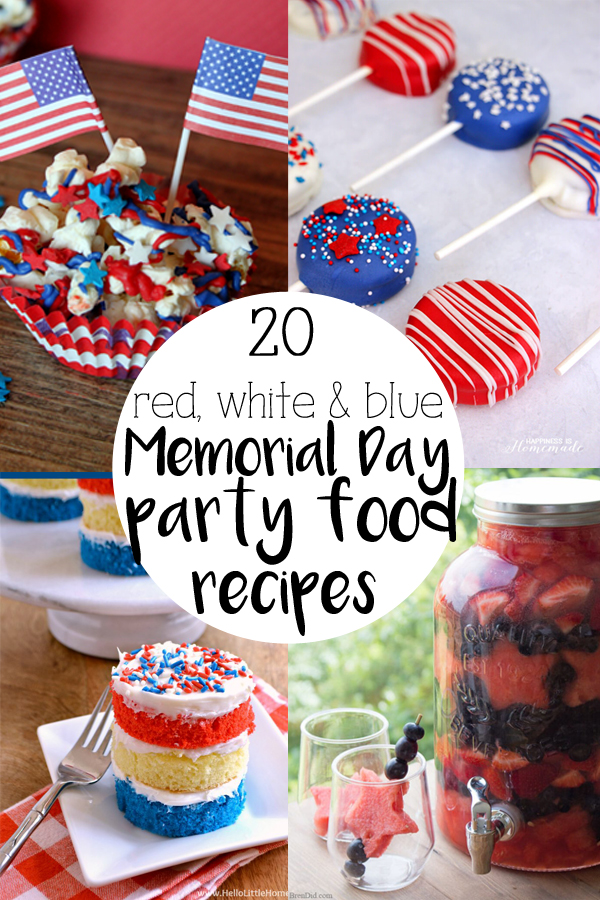 Disclosure: This blog post contains affiliate links. If you make a purchase from one of these links, I make a small commission at no additional cost to you. Read more.
Once you start looking at recipes for a party, you get sucked in. I started with just a few ideas and it has grown to 20! Spoiler alert: it's mostly desserts too. But after you start looking at these gorgeous Memorial Day recipes, you too will decide that the obvious solution is to just have a party every weekend this summer so you can eat them all.
If you're hosting a summer get-together, whether it's to celebrate Memorial Day, July 4th, Labor Day… or "I just love desserts" you are sure to have the perfect menu with the food below.
20 Memorial Day party food recipes
Note: These recipes and the photos belong to the blogs below and are used with permission.
This dessert is simple yet impressive. It includes layers of angel food cake, whipped cream, and fresh berries. If you're looking for a no-bake dessert that you can make in less than half an hour, this is it.
I love single-serving dessert portions. These little cakes look so adorable with each layer a different color. This recipe uses a box cake mix as the base and has a special trick for getting the colors just right.
This dessert pizza starts with a layer of Pillsbury crescent roll dough. Then, the fruit is decoratively placed to look like the American flag.
Oreo pops are one of those desserts that looks complicated, but it's really just a cookie dipped in candy melts. Decorate with drizzles of colored chocolate or add sprinkles – or both! This is one that you will want to make ahead of time.
Sangria is the unofficial drink of summer. It's easy to whip up a pitcher for sipping on the patio on lazy afternoons. This recipe is made with white wine, but you can also use red.
Rice Krispies treats are kind of the perfect dessert. They are no-bake, can be made ahead, and really don't take much time anyway. These are pre-cut into single servings so you can easily hand them out to a crowd of kids.
I can't always get my kids to eat a vegetable at a cookout, but they will eat fruit. This fruit salad includes a mix of red, white and blue and you could easily swap out one fruit for one that your kids like better.
There's something about dessert on a stick that my kids love. You can't go wrong with ice cream and sprinkles. You could make these ahead of time or let the kids dip their own.
These salad skewers would be great for an appetizer at any summer gathering, not just as Memorial Day party food. They look so fresh and tasty, I kind of want to eat one right now.
This gorgeous and fancy-looking cake actually starts with a boxed mix and canned frosting. The secret is all in the decorating! I recommend you splurge on the best food dye and sprinkles you can find to make this a really luxurious treat.
In Texas, salsa is pretty much a party staple. The question is just what kind of salsa you'll be having. This patriotic one makes a pretty appetizer that's a bit sweet and a bit salty. Serve it with tortilla or pita chips.
I'll be honest. This dessert is a bit rich for days over 100 degrees. But it's hard to say no to a cup with vanilla wafers and cheesecake topped with Skittles or M&Ms.
Pudding pops are easy. Just follow the pudding box instructions and freeze. This recipe takes it to the next level with layers of fresh fruit. You'll want to make these the day before you chow down.
There may be an unlimited number of ways to make a fruit pizza. This one includes a brownie for the base, so it might be magic. By the way, those little stars are edible glitter.
These fruit wands are made with watermelon and blueberries. Sometimes the simplest ideas are best.
Fresh berries, pie, and white chocolate. This recipe is from scratch, right down to the crust, but don't let that scare you off. It's easy enough that a baking newbie could pull it off.
Homemade lemon cream and fresh berries top a crunchy sugar cookie cup. Bake the cookie cups ahead of time and then mix up the topping and assemble right before serving.
You can make this sangria recipe in advance and set it up in a big beverage dispenser before a cookout. Guests can make their own drinks and it makes a pretty patriotic decoration too.
These layered smoothies are perfect for breakfast or snack time. Each layer is made with and mix of fresh fruit and frozen.
If you are looking for a blend of sweet and salty, patriotic popcorn cups are a perfect treat. Salty popcorn plus sweet candy is easy to make in bulk to serve a crowd.
Add one or a few of the Memorial Day party food ideas to your next get together or summer party.
If you found this post helpful, you might also like: