You might have noticed my lack of blogging this week. Or not. In fact, the past two weeks I've barely been online at all!
Although the 50+ unread messages in my inbox (just from yesterday) may disagree, I haven't been lazy the past two weeks. In fact, I've been very busy!
Here's a peek at what I've been working on – easy updates for my daughter's bedroom.
Sniffle's room was painted when we moved in. Originally it was navy blue. Not bad, but not ideal for a princess-loving 4-year-old. We painted it purple and tried to make it cute and girly.

We let her choose the new paint and ended up with Disney purple.
It didn't take long for the room to get…worn out. Sniffles is a bit destructive, so three years later we had peeled paint, broken toys, and lots of chaos. Plus, I thought painting the ceiling and trim would be tedious, so we didn't do that on the first go.

This is 2008 after we put all her stuff in there. For some reason I don't have any recent pictures.
Finally I decided that it was time to paint the gray ceiling and off-white trim a nice, clean white. Plus she needed some mature updates, being nearly eight now. It also gave me the opportunity to clean out everything and toss the junk. Sniffles is a bit of a hoarder and with her visiting grandparents this was the perfect opportunity.
Here's how it looks now after the easy updates.
We created a designated reading area. Books go on the shelf. Reading can be done in the chair.


All of her toys, art, and crafts fit in neat bins, making clean up time easier.

A designated dressing area is by the closet. The bins are easier for her to keep organized than drawers.

Hubby installed a full-length mirror in the dressing area. Maybe this will ease the traffic in our single bathroom? For parents worried about security, there is no way that she could pull this down and the edges are rounded.

This picture really doesn't do it justice, but I organized her desk and put up a bulletin board to display her artwork.

I used scrapbook paper to cover the up-cycled food containers that she keeps her desk supplies in. Now markers, colored pencils, regular pencils, and crayons have a home.
This is my favorite part! I bought a $2 sheet at the thrift store and spent a couple dollars on cup hooks and curtain clips. Hanging this canopy took about ten minutes.

I'm really happy with the uniformity of everything. Everything coordinates, even though there is a wide range of colors and patterns. I think Sniffles will be really happy with the subtle fairy theme too. Would any of these easy updates work in your home?
She comes home tomorrow. I'm really excited about the big reveal, Trading Spaces style. What do you think?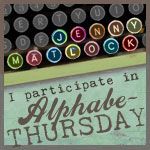 Like this post? Subscribe!
Subscribers get:
Weekly newsletter that includes the latest posts + tips on navigating the chaos of family life

Access to The Printables Library with over a dozen free planning printables
A 10% off coupon that can be used on anything at Keri Houchin Design each month that you remain a subscriber